The Allain Family
la famille Allain
(Marcel George Bihet married Marie Josephine Allain)
Yves Marie Allain was born in Plouha, near Paimpol on the North coast of Brittany, 28 July 1851. His father was Noël Allain (aged 28 at time of Yves birth) - a sailor ("matelot") - and his mother was Françoise Trèhiou (born Pludual. Aged 31 at time of Yves birth. Her father was François Tréhiou).
Yves married Marie Françoise Hélary (born 30 August 1854), a 'cuttirateur' (?), in Plouha on 11 September 1875. Her father was Yves Hélary, labourer, born in Pléguien. The Allain family left the village of Plouha, Côtes du Nord (now Côtes d'Armor), Brittany, and moved to Guernsey (the family "Allin" lived at Le Jardin, St Michel du Valle, Guernsey in the 1891 census). Yves worked as a labourer in Guernsey (1901 census "stone cracker")
Many families left Plouha for Guernsey during that time, as there was little work there. (The majority that left moved to Canada and the United States).
At that time there was a large French community in Guernsey. Most of them worked as farm or quarry labourers, or had stalls at the town markets - many of them lived nearby.
The children were:
Yves Allain ('Jean') born 23 July 1876
Marie Anne Allain ('Louise') born 30 June 1878
Pierre Marie Allain born 24 September 1879
Marie Josephine ('Jo') born 17 June 1888 in Plouha (10pm) Died 31 August 1964 Guernsey
Those are the entries I found for Yves & Marie Françoise Allain (la Mairie, Plouha, and 1891 Guernsey census) but my father remembers his Mum (Marie Josephine) talking about her 2 brothers Pierre and 'Jean' - who he believes moved back to France - probably fought in WWI - fate unknown (?Plouha Memorial) There is an Yves Allain, born 'about 1876', that left Bordeaux on the 'Chicago', bound for New York, on the 17 May 1918. There is no record of Yves (or Jean) on the French "Memoires des Hommes" website which records all the war dead. In the 1901 census, Yves and Françoise were living in Delancey Cottage, Brock Road, St Sampson, with Josephine (then aged 13). Josephine was considerably younger than her siblings, and her brothers may well have moved back to France - neither Pierre nor Yves/Jean Allain are living in Guernsey at the time of the 1901 census.
This war memorial in Plouha contains the names of Yves Allain, Hélary & Tréhiou
Yves (senior) died 4 January 1907 at the Castel Hospital, Guernsey at the age of 55 (in 1901 census, registerd as being age 43) of a "maladie de coeur". He was buried 4 days later at Saint Sampson in a public grave - his may have been one of those who fell into the quarry many years later. (There is also a chapelle of Saint Samson in Plouha)
Marie Françoise later married Jean Michoux, and died 11 February 1946 at the age of 92 (coma and cardiac failure) at Les Côtils. She is buried at le Foulon Cemetery, Guernsey, with her daughter Marie Josephine and son-in-law Marcel George Bihet
Marie Anne Allain (who my father refers to as "Louise") married Captain le Long. They had several children. In the 1901 census, Marie (aged 22) was married to Charles Le Long (aged 23, born in Jersey, a mariner), with 2 children, Charles (aged 4), and Alice (aged3) - both children were born in France. There was also Francois Le Long, aged 32, a French subject, also living with them as a "boarder". The Le Longs were in 1901 living with Marie's parents (and sister Josephine) in Delancey Cottage, Brock Road, St Sampson.
Pierre Allain was born in Plouha 24 September 1879. He married Mélanie, then later joined the 355 Regiment d'Infanterie (of France), 6 Corps d'Armée, 127 Division during the First World War. He was killed by the enemy on 4 April 1918 in "hand-to-hand" fixed-bayonet fighting in the village of Grivesnes, in Picardie, the Somme, during a counter-attack to retake the village from the Germans. Many of the dead were buried there in unmarked graves. He was awarded the Medaille Militaire, and la Croix du Guerre. (Click for Pierre's French records). He is named on the St Peter Port Memorial, the Saint Magloire memorial which is now at St Josephs Church, and the French Consulate's Memorial, now at St Thomas' Church, Jersey.
Pierre ALLAIN and his wife, Mélanie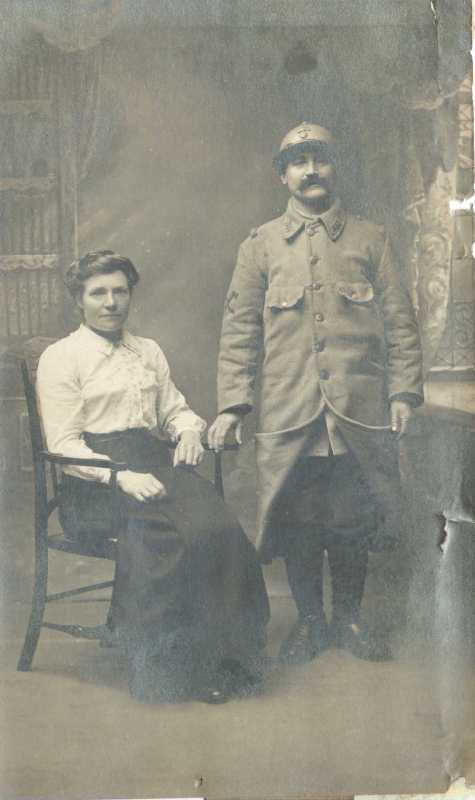 Carte Postale sent by Pierre to Mélanie 8 October 1915
French War Record - click to enlarge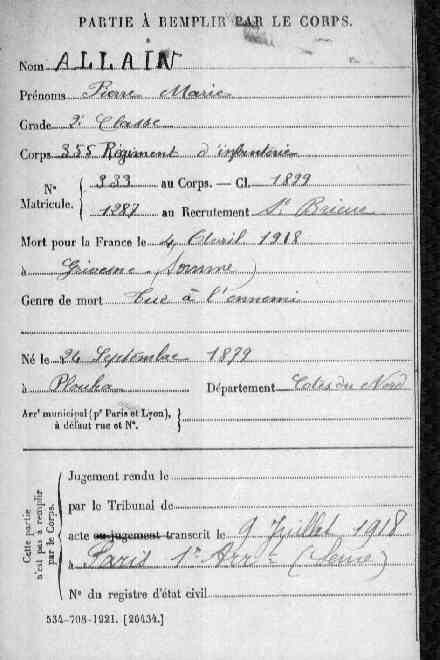 Le Nécropole Nationale à Montdidier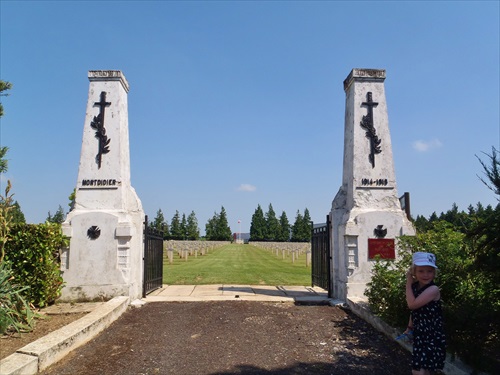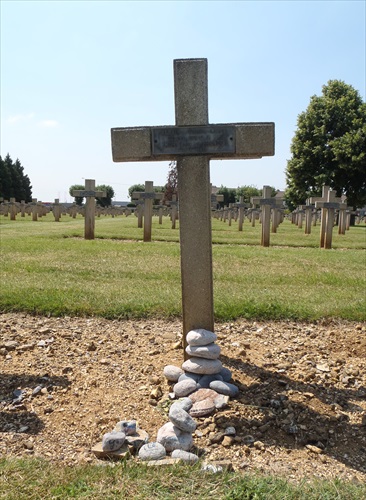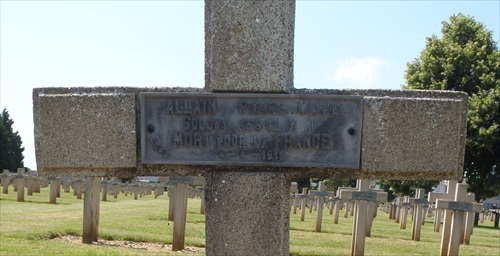 Grivesnes - Pierre's last battle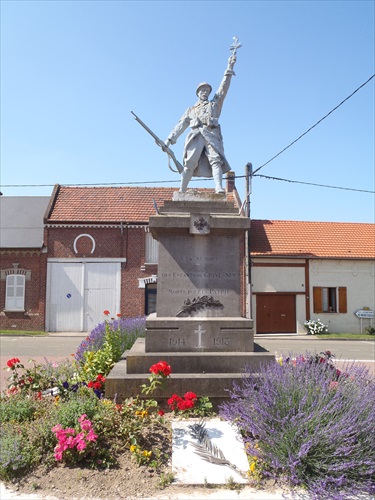 My father - André Pierre Joseph Bihet - son of Marie Josephine (and Marcel George Bihet), and nephew of Pierre, remembers travelling to Saint Malo with his mother, to visit his tant Mélanie, Pierre's widow. They walked from the ferry, across locks, to Saint Servan (Saint Malo) where Mélanie was then living. Pierre and Mélanie had no children together.
About the Medaille Militaire (french) English Version
About la Croix de Guerre 1914-1918 (french) English Version
(known as "Jo" or Josephine)
born 1888 in Plouha Birth Certificate (very damaged)
Aged 13 and living with her parents (and her sister and family) at Delancey Cottage, Brock Road, St Sampson at time of 1901 census.
married Auguste Marie Perrot (son of François Perrot, aged 18 at time of 1901 census, living at with the Bilaire family at Chivrets House, near Vale Bakery, as a "boarder", working as a "stone cracker") on February 25 1905 at the age of 16, and together they had 2 children. They lived on Delancey Hill, St Sampsons, Guernsey. Auguste died at the age of 27 (on 5 January 1911). Details of his death here. Part of a death certificate
Charles Perrot m. Gabrielle who died whilst giving birth to Joan (m. Les Williams, 4 children: Julie, David, Cheryl & Neil), Charles later married Ruth
Yvonne Perrot m. Ernest Rault - one daughter Patricia (m. Roly Kite)
After being widowed, Josephine married Yves Marie Michoux (on 14 June 1913), with whom she had another 2 children. "Yves Michou" was 19 at time of 1901 census, a french subject living at Maison au Contes with his parents and sister, working as a plasterer.
Florence Yvette Michoux (b. 9 September 1914) m. Jules Duceillier (Dec 1935) - one daughter Marguerite (m. Mike Tostevin 4 children: Denise, Steven, Adrian & Andrew)
Louise Michoux m. Arthur Totty - children - Michael (m. Susan Parsons, 3 children: Neil, Martin, Naomi), Yvonne (3 children: Marie, Mark, Shane), Patricia (m. Maurice Ogier, 3 children: Karen, Maria, Michelle, then 2 more children with Dudley Boscher: Dudley, Lester)
Again widowed (in 1917), Josephine married Marcel George Bihet on 28 March 1921
They had 3 children
John Marcel Bihet 22.1.1922 - 24.12.1989
Thérèse Bihet 24.3.1926 - 18.12.1974
André Pierre Joseph Bihet b. 28.1.1928
Their story is told on the Marcel's page
Josephine died on 31 August 1964 (aged 76) in the Princess Elizabeth Hospital, Guernsey (heart failure & mesenteric vascular occlusion). She is buried at le Foulon Cemetery with her husband, Marcel George Bihet, and her mother. Copy of Burial Plot purchase 1946
According to Infobel.com there are 6 Allain families (telephone directory entries) in Plouha, and a total of 433 throughout the departement - Côtes d'Armor. Infobel also provides information for 2 Hélary families in Plouha
If anyone can offer any more information about the Allain family, please e-mail me