About Extracts Reviews Purchase AudioBook Links André OCCUPATION LIFE Privacy Contact
---
Click here for the history of the BIHET family of the Channel Islands
---
Books by Molly Bihet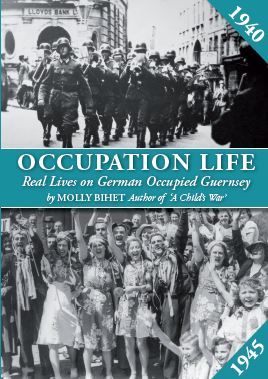 Occupation Life:
Real Lives on German Occupied Guernsey
You've heard about the German Occupation of Guernsey in the Guernsey Literary and Potato Peel Pie Society. Now read about real lives during that time! Molly describes her own personal experiences (aged between 9-14) and those of her family and friends in this new book.
Evacuation - Occupation - Deportation - Liberation
Click on the picture to find out more or purchase directly from this website.
Molly was interviewed by the Sunday Mirror and appeared in the Sunday People newspaper in April 2018 to co-incide with the release of the GUERNSEY LITERARY AND POTATO PEEL PIE SOCIETY film
Printed Guernsey - about Occupation Life by Molly Bihet
VIDEOS featuring Molly
A video by The Telegraph includes an interview of Molly talking about the Occupation of Guernsey
The Guernsey Literary and Potato Peel Pie Society movie - Historial Featurette
History behind the Guernsey Literary and Potato Peel Pie Society Film
Videos by Visit Guernsey of Molly
A Child's War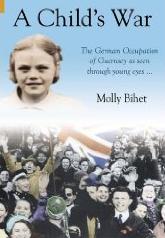 What was everyday life like for a child and her family during the five years of German occupation in Guernsey from 1940 to 1945?
Read about the turmoil and evacuation of families and most of the children in 1940. Molly was aged 9 to 14 during the Occupation and she describes her family life, her schooldays and the "games" that Molly and her friends played. Chapters include: 'Grandpa's Pastimes', 'Law and Orders', 'Entertainment', 'Characters' and finally, the SS Vega bringing our life-saving Red Cross parcels in December 1944, with our joyous 'Liberation' and freedom to follow, in May 1945. First published 1985. Current publication (Amberley) 2009

Available from Molly (Guernsey only), direct from Amberley Publishers or via Amazon

A Time for Memories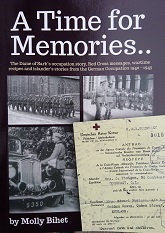 This newly re-publised book includes stories of many islanders who lived through the Nazi occupation of Guernsey, 1940 - 1945, including that of Sibyl Hathaway the Dame of Sark. The book also includes war time recipes, photographs and Red Cross letters.
The Dame of Sark, Mrs Sibyl Hathaway, tells in her own words, 'The Occupation of Sark. Other memories include those of veterans of Task Force 135 as they relive Liberation in 1945 and remember the celebrations of 1995; coded messages sent through the Red Cross; our life-saving boat the Vega, and much, much more... First published 2009
'A Time for Memories' also contains numerous Guernsey wartime occupation recipes, including several potato and potato peel recipes, including: Potato Peel sweet or savoury Cake (Potato Peel Pie), Potato Pudding, Potato Sandwich, Bean and Potato Cake, Potato Tart, Sweetcorn and Potato Pie, and others such as: Country Batter Pie, Limpet Omelette, Damper, Parsnip Pudding, Stewed Ormers, Turnip Jam, Imitation Suet Pudding, Tomato Bread Spread, Carragreen Relish, and Tomato Jam.
Now re-available & re-published in 2017 by Molly. Order from this page



Reflections of Guernsey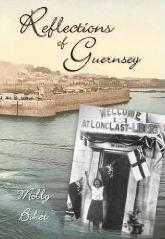 After completing 'A Child's War' many readers wanted to know more about the Island and our lives. This book includes more memories of Guernsey's occupation and liberation, and also our freedom through the years 1949 to 1993, now updated to 2007.
With these memories I have written of more "happenings", statistics and also coincidences of the German Occupation of Guernsey. Remembering again our never to be forgotten Liberation Time, and afterwards our important Rehabilitation period of 1945-1946. Then there was the joyous and emotional homecomings of thousands of islanders after the five years of separation. This is the Guernsey I like to remember; the characters of old, my family, friends and guests who over the years have made the Island of Guernsey very special to me. First published 1993.
No longer available.

Earlier editions (published by Molly Bihet):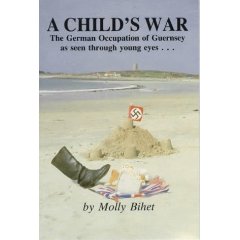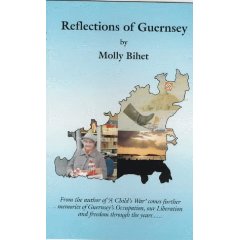 About Extracts Reviews Purchase AudioBook Links André Contact