About Extracts Reviews Purchase AudioBook Links André OCCUPATION LIFE Privacy Contact

Occupation Life:
Real Lives on German Occupied Guernsey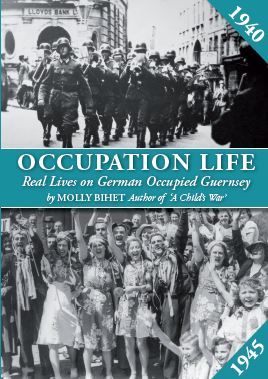 Publication Date: November 2014
Molly's latest book.
174 pages.
Buy now directly from author and publisher: Molly Bihet
Your book will be delivered signed by Molly
You may have read and enjoyed reading about the German Occupation of Guernsey in the Guernsey Literary and Potato Peel Pie Society. Now read about real lives during that time! Molly tells about her own personal experiences and those of her family and friends in this new book.
Molly has appeared on numerous television and radio programmes about the Occupation, and enjoys talking to groups in schools, museums and hotels.
| | |
| --- | --- |
| £12.79 posted to UK | £18.99 posted Worldwide |
| | |
Unfortunately, cost of postage to rest of the world has greatly increased recently
Pay with any debit or credit card at Paypal - you don't need a Paypal account
A Child's War
2018 edition - Publisher: Molly Bihet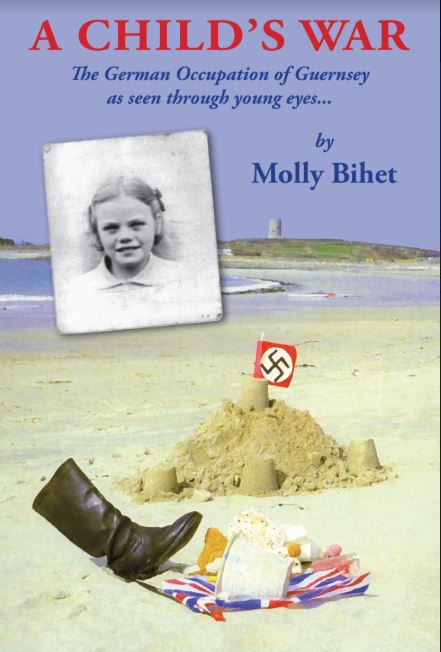 What was everyday life like for a child and her family during the five years of German occupation in Guernsey from 1940 to 1945?
Read of the turmoil and evacuation of families and most of the children in 1940 - the schooldays and the "games" of a child aged between 9 and 14 years had to play! Chapters include: 'Grandpa's Pastimes', 'Law and Orders', 'Entertainment', 'Characters' and finally, the SS Vega bringing our life-saving Red Cross parcels in December 1944, with our joyous 'Liberation' and freedom to follow, in May 1945.
First published 1985. This edition published by Molly Bihet 2018. This edition only available from the author. Amerberley 2009 edition available direct from Amberley Publishers or via Amazon
| | |
| --- | --- |
| £10 posted to UK | £13.50 posted Worldwide |
| | |
A Time for Memories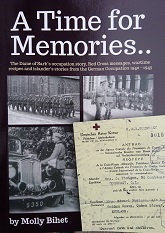 A Time for Memories includes stories of many islanders who lived through the Nazi occupation of Guernsey, 1940 - 1945, including that of Sibyl Hathaway the Dame of Sark. The book also includes war time recipes, photographs and Red Cross letters.
The Dame of Sark, Mrs Sibyl Hathaway, tells in her own words, 'The Occupation of Sark. Other memories include those of veterans of Task Force 135 as they relive Liberation in 1945 and remember the celebrations of 1995; coded messages sent through the Red Cross; our life-saving boat the Vega, and much, much more... First published 2009
'A Time for Memories' also contains numerous Guernsey wartime occupation recipes, including several potato and potato peel recipes, including: Potato Peel sweet or savoury Cake (Potato Peel Pie), Potato Pudding, Potato Sandwich, Bean and Potato Cake, Potato Tart, Sweetcorn and Potato Pie, and others such as: Country Batter Pie, Limpet Omelette, Damper, Parsnip Pudding, Stewed Ormers, Turnip Jam, Imitation Suet Pudding, Tomato Bread Spread, Carrageen Relish, and Tomato Jam.
Now re-available & re-published in 2017 by Molly
| | |
| --- | --- |
| £12.79 posted to UK | £18.99 posted Worldwide |
| | |

About Extracts Reviews Purchase AudioBook Links André Contact