Arthur Bihet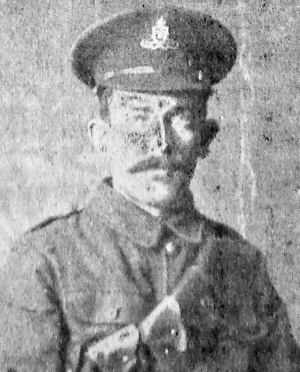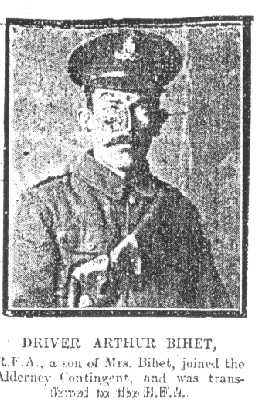 Son of Pierre François Desiré Bihet (3.11.1857 - 3.1.1937) & Marie Ann Desiré Picot
Born in St Martin, Jersey, 1887
Aged 14 and listed as being a quarryman at time of 1901 census, living with his family in Crabby, St Annes, Alderney.
Arthur enlisted for the Royal Field Artillery (Regimental number 89291) as a driver on 17 March 1915, at the age of 28, stating that he had previously served with the military. He was unmarried at the time.
Arthur's service records describe him as 5'3", 35½ girth ('when fully expanded' and 'range of expansion' 1½"). He also had a "scar of boils in back". He fought in France with the 9th Division Ammunition Column (same as his brother Constant), and D52th Brigade. He left the service on 20 May 1919, and was awarded the British and Victory Medals, and the 1915 Star.
Arthur moved to North Wales and settled in Barmouth where his descendents still live. He worked as a linesman for British Rail before his retirement, and died in 1958, aged 72.
Picture from 'A Fighting Family'
Ernest Marcel George Ada Marie Louise Justine Jean Constant Arthur