Jean Bihet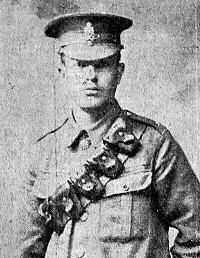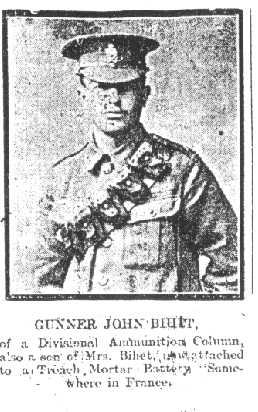 Son of Pierre François Desiré Bihet (3.11.1857 - 3.1.1937) & Marie Ann Desiré Picot
Born in St Martin, Jersey
Aged 6 at time of 1901 census, living with all his family in Crabby, St Annes, Alderney
Jean joined the Royal Field Artillery, Regimental number 89289 (9th Trench Mortar Battery). His name appears on the Medal Roll as 'James'. He won the British and Victory Medals, and the 1915 Star.
He was killed on the 26 May 1917, at the age of 22 in France. He is buried at Aubigny Communal Cemetary (Extension), Pas de Calais III, G.18
Commenwealth War Graves Commission
His name appears on the Alderney War Memorial, the St Peter Port Memorial, the Vale Parish memorial, and the Saint Magloire memorial, now at St Josephs Church.
Picture from 'A Fighting Family'
Ernest Marcel George Ada Marie Louise Justine Jean Constant Arthur