Constant Bihet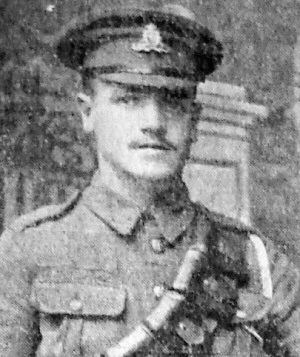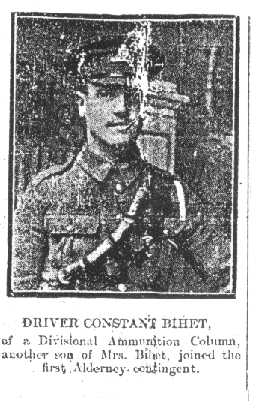 Son of Pierre François Desiré Bihet (3.11.1857 - 3.1.1937) & Marie Ann Desiré Picot
Born in St Martin, Jersey 1895
Aged 5 at time of 1901 census, living with his family in Crabby, St Annes, Alderney.
He enlisted with the Royal Field Artillery (Regimental number 89290) as a driver at the age of 19, on 18 August 1914. Prior to that he gave his employment as 'assistant cook', and had served with the Guernsey Artillery Contingent.
His service records describe him as being 5'4½", with a 'girth fully expanded' of 35½", 'range of expansion' 3". He had a scar over left eyebrow, and 'various scars of boils about lower chest'. He weight 132lbs
He served in France with the 9th Division Ammunition Column (same as his brother Arthur) as part of 'Expeditionary Force France 1915, 1916, 1917, 1918'. In November 1918 he was posted to 19th Corps.
In 1918, he was stated to be 'of Alien Origin' due to his French parentage - this was investigated at the request of the RFA by the Alderney Police. The War Office declared, in October 1918, 'having been born in the Channel Islands he is a British Subject. His parents however are French Subjects and his documents should therefore be marked "alien origin" and he should be considered as coming under the provisions of A.C.I.578 of 1918'. Of the 5 brothers who enlisted and fought in the Great War, he is the only one who has records indicating he was investigated in this manner.
He was demobilised in February 1919.
Constant was the only Bihet to make his home in Alderney.
Constant had a reputation as a folk singer, and I've recently obtained a copy of him singing Petit Jesu, followed by a talk patois (www.folktrax.freeserve.co.uk) This is what it says about him:
BIHET, Constant. Alderney, Channel Islands. Unaccompanied singer. 1957 - odd job man living in Braye Road - born in Jersey but came to Alderney at the age of three and spoke Alderney French up to 2 years previous. Recording by Peter Kennedy 12/5/57: RPL LP 23845 Carol: "Petit Jesu" & conversation in Alderney & Jersey French with Reuben WILSON: FOLKTRAX 012
Constant married Laura, and had 2 children - Kenneth and Millicent (m. Pierre Cadoret, 1 son John)
Ken, whose name appears on the Alderney War Memorial was killed whilst serving as a radio operator on HMS Hood during WW2
Picture from 'A Fighting Family'
Ernest Marcel George Ada Marie Louise Justine Jean Constant Arthur