Marie Louise Bihet
Thomas family
in gratitude to cousin Millie for the information on this page
Marie Louise Bihet (b. 7.6.1889) in St Martin, Jersey
Daughter of Pierre François Desiré Bihet (3.11.1857 - 3.1.1937) & Marie Ann Desiré Picot
Aged 11 at time of 1901 census, living with all her family in Crabby, St Annes, Alderney
Married Henry Thomas on 24 November 1909
Jersey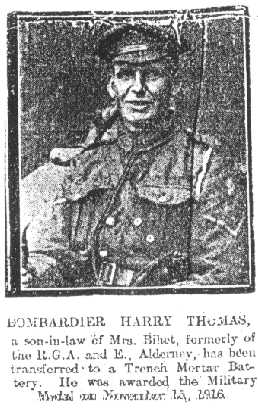 Louise served as a nurse with the Queen Alexandra Imperial Military Nursing Service during the Great War, whilst her husband served as a bombardier.
They had 8 children:
Henry George (b. 31.5.1910, d. 19.10.84) who married Eileen Tilly 3.6.1939 and had 2 children - Jan b. 1947 and Hugh b. 1953. Hugh married Carol Sampson - twins Charlotte and Benjamin b.15.9.77. Hugh remarried Tracey Tomlinson-Leah, son William 29.8.06. Henry (Harry) served in the Royal Signals from 1925-1937 and again during WW2, surviving Dunkirk, North Africa & Italy, having joined the Royal Electrical & Mechanical Engineers as a warrant officer. Hugh served in the RAF for 38 years.
Millicent Grace (who provided most of this information) b. 29.2.1912
Marie May b. 2.9.1913 and d. 9.9.1913
Arthur Ernest b. 22.9.1914 married Ivy May Hatton 5.4.1941 - one daughter Patricia Mary b. 1947
Olive Frances b. 26.3.1918 married Ernest Eaves 9.11.1940 - children, Ernest b. 1942, Anne b. 1944, Franes b. 1947
Louise Elsie b. 19.2. 1920 married John Wilson - 2 children Arthur John b. 1949 and Peter John b.1960
John b. 25.11.1921 d. 9.4.1945
Marcelle b. 25.6.1923 married Eric House - daughter Vivienne b. 1954
This information has not been updated for many many years, and eg. does not include grandchildren.
Millie died 6 or 7 years ago.
Picture from 'A Fighting Family'
Ernest Marcel George Ada Marie Louise Justine Jean Constant Arthur