Ernest Pierre Bihet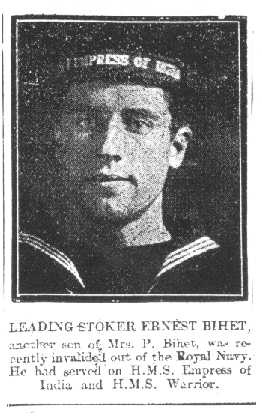 Son of Pierre François Desiré Bihet (3.11.1857 - 3.1.1937) & Marie Ann Desiré Picot
Born in St Martin, Jersey 30 January 1885
Aged 14 at time of 1901 census, working as a quarryman, living with all his family in Crabby, St Annes, Alderney
Leading Stoker (310014) Ernest Peter Bihet joined the Royal Navy on 19 April 1906, and served until being invalided out in April 1915.
His Navy records describe him as being 5'6½" height, medium brown hair, light hazel eyes and fresh complexion. Under section "wounds, scars, marks etc", he had a "heart back of left hand"
Married Catherine Matilda Harvey (daughter of Thomas, a stonemason of Plymouth)
Ernest Eric Lawson m. Ruby le Huquet No children. Served with Jersey Royal Militia & Home Guard Demolition Squad 1939-1945 Duke of Cornwall's Light Infantry
William Henry Clarence - m. Louise Phileron Amy 4 children: Barbara (m. William Blihault. 3 children Annette, Suzanne, Louie), Patricia (m. Mike Bushill, 3 children: Lisa, Dawn, Niel), Margeret (m. David Cowburn, 3 children: Trician, Garry & Samantha) David (m. Linda Shuttleworth, 2 children: Kerrie, Jennifer. David served as Fleet Chief Petty Officer RN. After Linda died, David married Karina. Currently living in Wales) William later married Eleanor (no children)
Marie Madeleine Veronica m. Lewis Harris 4 children: Joseph, John, Mena & Hilda. Marie later married William Tippet (no children)
Angele Monica moved to Guernsey m. Thomas Bower, 8 children: Matilda (m. Kenneth le Masurier, 1 child Phillip - m. Mandy Hanson 2 children, Aaron, Josie), Angela (m. Robert Smith, 3 children Philip, Andrew, Lorraine m. John Linster 1 child Carrie), Eliza (m. Neville Brown, 4 children, Adrian, Stehpanie, Richard, Rebecca), Matthew (m. Barbara Allen, 4 children: Carol, Sarah, Lisa, Vivienne, divorced 1976, m. Kim Anne Ford 1986, 2 children: Nathan, Neil), Marguerite (m. Brian Moran, 4 children: Amanda, John, Emma), Rosemarie (m. Alan Baum, 4 children: Anthony, Graham, Shaun, Deborah), Ernest (m. Patricia Ashmore, 2 children: Donna, David. Ernest later married Teresa and had 3 children: Aaron, Leanne, Ashley), Patrick (m. Susan Harber, 2 children: Andrew, Lee) Angele Monica served with Women's Land Army 1939-1945. Thomas Bower served with Queens Own Royal West Kents, taken POW at Lille, with British Expeditionary Force 1939-1945. Angele Monica later married Charles Challoner (no children)
Raymond (died 20 minutes after birth)
Marcel John (Michael) - moved to Guernsey. m. Ivy Corbett, 1 child stillborn. Served in Royal Army Medical Corps, Europe, Western Desert & Korea. Later m. Aline le Vasseur, 4 children: Peter, John, David and Wendy. Marcel later moved to Australia.
Agatha Agnes - m. Charles Seadon. 2 children: Clifford, Winifred (m. David Diprose) Agatha servied with WRAF, Charles with Royal Corps of Signals.
Bernard Joseph - Served with Duke of Cornwall's Light Infantry 1941-1944. Drowned during WW2 in River Ouse, Bedfordshire. Buried at Kempston Cemetry.
Louis Henri François - m. Doris Maud Cauvain, 2 children Dawn (m. Franco Vedovatti, 2 children Liana & Gian) & Sheila (m. Alexander Johnstone, 1 child Claire) Louis served with Army Cadets and Home Guard, Duke of Cornwall's Light Infantry SJAB.
Pierre Leon Paul (Peter) - m. Agnes Mauger, son David (m. Ingrid McLinton, 1 child Francesca) Served with the Army Cadets, RAF
Ernest was killed in an accident on December 7th, 1935 while felling a tree in St Martin, Jersey
Jersey Evening Post article about his death
Picture from 'A Fighting Family'
Ernest Marcel George Ada Marie Louise Justine Jean Constant Arthur